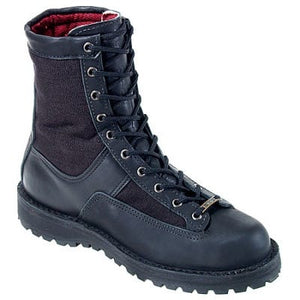 These 8-inch shoes are Marine Corps approved. The uppers of these uniform boots are manufactured of guaranteed waterproof full-grain leather and heavy-duty 1000 nylon. Full-grain leather includes the outer portion of the hide, and it's the sturdiest part. This nylon is lightweight (you don't want to be weighed down in a chase) and resists tears and abrasions like no other fabric of its kind.
Your comfort is taken into account with this American-made footwear which has a smooth lining that wicks away dampness like a blotter. A second layer of protection was added to these insulated boots, (to keep you guarded against the rain and snow) with a Gore-Tex layer surrounding your feet, so that perspiration can get out, and exterior water can't get in. These premium shoes have 200 grams of Thinsulate insulation, which uses tiny microfibers to trap your natural warmth and reflect it back to you. This much Thinsulate in the black boots should keep you comfortable down to -40 degrees Fahrenheit without you having to jump up and down like a kangaroo to improve circulation.
Using a stitchdown construction, Danner has developed insulated footwear you can trust. Thanks to this unique construction, they can even be redrafted at Danner's Portland factory if you need it. The lace-to-toe design gives you a secure fit, so you can put this abrasion-resistant shoes on in a hurry, polish them up quickly, and get going to your tactical adventures.
This footwear is equipped with airthotic footbeds which are a half-length, molded polyurethane insteps that cup your heels and supports the arch area of each foot. More rigid than foam footbeds, the raised arch support won't compress over time, and it's perforated for improved air circulation and comfort. These boots have Vibram soles that can be repaired and deliver a good balance of traction and stability. The Vibram Kletterlift outsoles will give you plenty of traction and stability over any rugged terrain. You'll also get excellent shock-absorption, along with lightweight comfort.