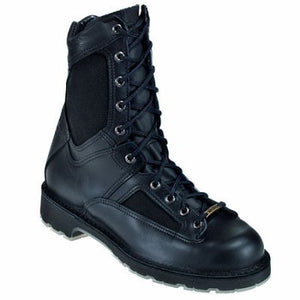 Designed for action, Danner 26053 Men's Acadia Elite 8" Leather/Cordura boots will be your contact for all tough assignments. When you're on the chase or just on the job, these performance boots will keep your feet comfortable and protected so you can take those bad guys down.
Made in the good ol' US of A, these Work Boots feature waterproof full-grain leather and 1000 denier Cordura uppers for outstanding durability and flexible comfort. Danner employs Stitchdown construction to make this pair which means the uppers are actually stitched to the insoles for a secure, durable attachment. The insole unit is then cemented to the outsole enabling them to be easily re-soled and adding years to the life of your boots.
You'll be stable on your feet in this pair because they feature Vibram/Danner Duralogical outsoles. These unique TPU soles were developed by Vibram specifically for Danner. The translucent material provides all the rugged durability you'd expect of Danner, yet it's extremely cushioned to keep fatigue at bay. With superior oil- and slip-resistance you'll have reliable traction on a variety of terrains and surfaces.
Inside you'll find a nylon lining for a breathable fit that helps move moisture away from your feet. You'll be comfortable and protected once you slip into the Gore-Tex bootie. Gore-Tex works just like your skin-it features billions of tiny holes too small for water to penetrate, but large enough to allow perspiration to escape. With this kind of technology your feet will stay warm, cool and dry no matter where that chase takes you. The polyurethane footbed and midsole help cushion your step for stable on-the-go comfort.
Be ready for action and lace up the performance power of Danner 26053 Men's Acadia Elite 8" Leather/Cordura Boots. Pick up your pair today and chase down those bad guys with sure-footed ease.